"Her town's lack of men may make headlines, but it isn't news to Dakota Hendrix. The beautiful blonde has bigger problems to deal with, such as overseeing the romance reality competition filming in Fool's Gold. Screening eligible bachelors is a difficult enough task, but Dakota hits an unexpected snag when a sexy stranger comes to town.
Finn Anderssen will do anything to keep his twin brothers — the perfect contestants — off the show. Despite Dakota's better judgment, she finds herself drawn to the mysterious outsider. Like her, Finn knows about heartbreak and how a family can fall apart, so she doesn't dare to hope for anything more than a fling. After all, even in the Land of Happy Endings, finding true love is never as easy as it looks on TV"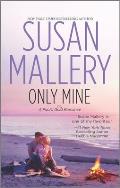 "Only Mine" is book #4 in the Fool's Gold series and, to me, is a perfect fit. This time around, Susan is focusing on the Hendrix triplets and first up is Dakota. She's pretty straight forward and level headed and where we find her at the beginning of the story, her world is slightly upside down. The great thing about the way Susan Mallery writes is that all of the situations that Dakota finds herself in are believable - nothing is so over-the-top that you can't grasp and follow along, anxious to see how it all goes.
Finn Adnerssen is a really likable guy but at times, you just want to smack him. That is a great way to make your reader feel because you, along with the heroine, WANT him to change. It's not that he's so flawed, it's just that his view of reality is a bit off at times.
There is a lot of sub-plots going on throughout the book between the stories of Finn's twin brothers and the story involving Dakota's mom trying dating again after ten years of being a widow - all that on TOP of catching up with some of the great character's of Fool's Gold and you've got a very full book. I almost wish it could have been longer because the sub-plots were just as interesting as Dakota and Finn's story - particularly Finn's brother Stephen's story. He just seems yummy.
"Only Mine" is a great addition to the Fool's Gold series and I cannot wait for the next two books to see how the triplets all find their happily ever after.
FIVE STARS!!!